25 March, 2016
Time Walks makes Australian free-to-air debut on ABC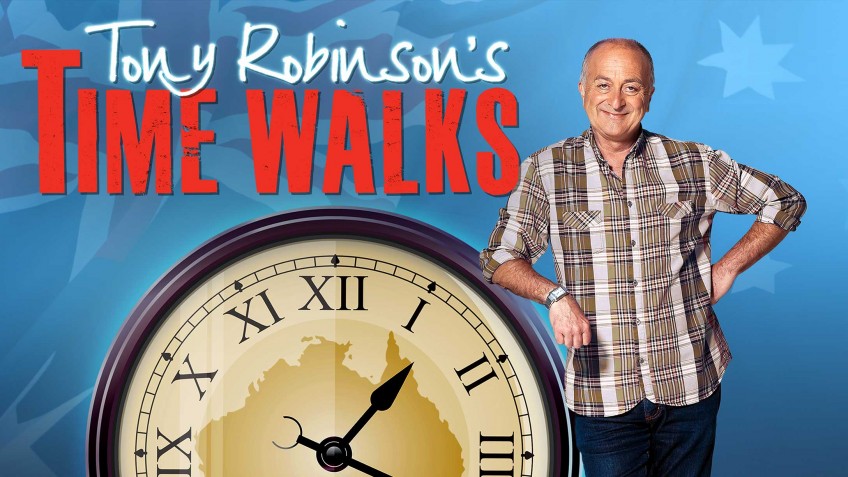 Fred Media is proud to announce that Tony Robinson's Time Walks will be broadcast on free-to-air television in Australia for the first time, launching Friday April 8 at 8pm on ABC.
The national broadcaster has picked up seasons one and two (20 episodes in all) and will screen them in the prime time 8pm slot each Friday on its flagship channel. Sir Tony Robinson is a stalwart of television, attracting a legion of fans around the world for such acclaimed shows as the comedy series Blackadder (playing the role of Baldrick) and the Channel Four UK archaeology series Time Team, which he hosted from 1993 to 2014.
In each 30-minute episode of Time Walks, Tony visits a different Australian location uncovering fascinating stories along the way. Seasons one and two visit all the major cities as well as Fremantle, Wollongong, Bendigo, Newcastle, Kalgoorlie, Launceston, Townsville and the Barossa Valley. He also travels to New Zealand to uncover some incredible stories about Wellington and Christchurch.
The show, produced by WTFN Entertainment, is distributed by Fred Media. The deal with the ABC was struck after the national broadcaster signed an agreement with Fred Media and Foxtel to secure the series. Tony Robinson's Time Walks was originally commissioned for Foxtel and went on to be one of the highest-rating shows on The History Channel.
Fred Media General Manager Michael Aldrich says: "Tony's name is now synonymous with uncovering the great stories of history and he has a huge fan base in Australia. He has that knack of unearthing extraordinary facts about our own heritage. We couldn't be more delighted that this agreement will continue to broaden the awareness of Tony's work and turn a new generation of fans on to the show."
There's nothing pedestrian about going for a walk with Sir Tony Robinson who brings his inquisitive and inimitable storytelling approach into Australia's streets in this 20-part series, uncovering the hidden history behind, below and above the places we walk every day. Tony digs deep to draw out the drama of the past, divulging tales of crime, acts of bravery and showcasing the notable characters and moments that have shaped the area.
About Foxtel
Foxtel is one of Australia's most progressive and dynamic media companies, directly employing around 2,800 people and delivering a diverse subscription television service over cable, satellite and broadband distribution. We offer a better entertainment experience every day to each one of our 2.8 million subscribing homes through delivery of new and inspiring programming across all genres, the world's most popular channel brands, and investment in high quality local content. As constant champions of innovation we have brought customers the iQ personal digital recorder, Australia's largest HD offering, the Foxtel Go App for tablets and mobile devices, internet TV service, Foxtel Play, subscription on demand (SVOD) entertainment service, Presto and television, broadband and home phone bundles with Foxtel internet and voice services delivered over Australia's largest telecommunications network. Foxtel is owned by Telstra Corporation Limited ACN 051 775 556 (50%) and News Corporation (50%). foxtel.com.au
About ABC
ABC TV is the home of Australian conversations, culture and stories, delivering commercial-free, free-to-air screen content via a multiplatform multi-channel network. ABC TV is the destination of choice for viewers and users seeking quality and diversity in screen content; in particular engaging audiences in distinctly Australian content across a wide variety of genres. ABC TV platforms include ABC, ABC2, ABC3, ABC KIDS, ABC News 24, ABC iview and ABC KIDS iview.
About Fred Media
Fred isn't just a distribution company. It's a major powerhouse, backed by Australia's premier independent production company WTFN. Fred offers unprecedented access to WTFN's extensive catalogue of internationally-acclaimed productions, across a broad range of genres including factual, reality, lifestyle and children. Fred boasts a growing list of independent production partners around the world with over 1000 hours of content and exclusive licensing relationships in more than 170 territories.
For further information
Michael Aldrich, General Manager, Fred Media
+61 499 776 061